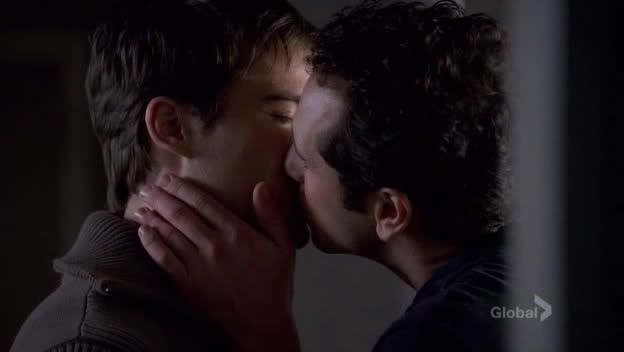 Well, whatever you call it in a place like California, the actors Matthew Rhys and Luke McFarlane did more than kiss on t.v. tonight: they went all the way...to a commitment ceremony. The "Brothers and Sisters" family was there for "Kevin and Scotty." While "Scotty's" parents did not attend, "Kevin's" family were all there in their wide-act of dysfunctional glory and gore. Heck, the show ended up with more cliff-hanging than any family on earth deserves or wants, thanks to the highly noted promiscuous behaviors of the straight patriarch of the family...and have I mentioned the promiscuous behavior of the rest of the straight characters on this show?! What a wonderful nighttime soap opera.
As a man who is in a 13 year long term commitment with another man, in a state that does not legally recognize us as a couple, what fun to see a ceremony like this on television. There is nothing "normal" about it, because we are not normally filmed or televised being in a commitment ceremony. As other bloggers have noted, "Kevin's" character has gotten more sex than "Will Truman" ever did on "Will and Grace."
The character that Calista Flockhart plays said it best: "Sometimes we have to go beyond what 'was' in order to get to something new and different and beautiful that we never considered, well, possible before."
For those of you who read this site and hate us or are scared of us because we claim without apology to be the people that God created us to be a lesbian, bisexual, transgender or gay people, knowing fully well who and whose we are, there is an important lesson to be learned in all of this: love between two people, regardless of their sexual orientation or gender, will always win over fear and hate. As God said and says: "Behold, I am doing a new thing!"
A toast to ABC-TV, "Kevin and Scotty," and all of us as a country who have an investment not only in straight unions like Jenna Bush and her beau Henry Hager getting married in Crawford, TX this past weekend, but for all of us discovering relationships that give life and are embraced by love, gay, straight, transgender, and bisexual people alike...and however they define their commitment to one another!
Enjoy!
Peace, Brett